Glamping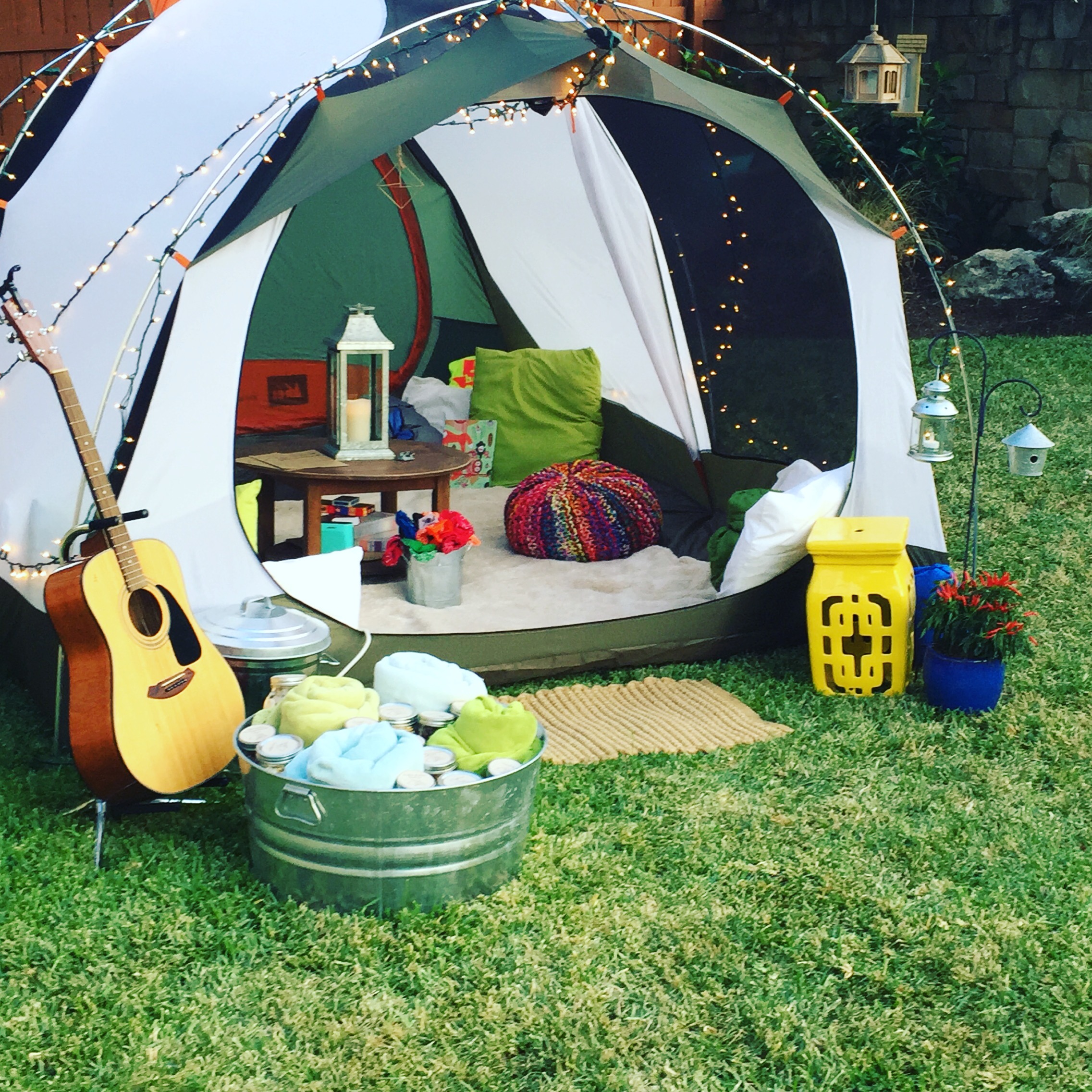 Living in Austin, the city of hipsters, the vibe is casual chic.  Hipsters pride themselves on keeping Austin Weird - the weirder the better!   Glamping is one of those new popular crazes that we just had to try!   Rather than investing big bucks to sleep outside we went backyard chic for my daughter's 13th birthday.  We glamped up the backyard with indoor comforts, jazzed up traditional camp food, and set four teens off on their own to hang out. October in Austin is the perfect time to Glamp.   Hot all day, then mild in the evening.   We kept our Glampout on the DL, inviting just a couple close girlfriends over text for a backyard sleepover...  Just come comfortable.  A quick and casual last minute plan. No big deal.
The afternoon of the party I set up our Coleman family tent and loaded it with Glamping essentials including: tons of throw pillows, cozy blankets, a plush rug, lanterns, a charging station, bose speaker, hanging gems, friendship bracelet-making supplies, adult coloring books & markers, a guitar, tons of kitchy glamp snacks and lots of white christmas lights.   The feel was loungy and open. This was so quick and easy to do...I scavenged through the house for our favorite tweeny decor...  a low table and bean bags were the centerpiece & only furniture.  The tent walls were lined with throw pillows, bed pillows, and rolled sleeping bags & blankets.
Glamp Dinner
The girls arrived at 7.  After a brief tour of their quarters they saw the dinner table.   Each girl had a couple glow necklaces at their place along with a wrapped party favor. All campers were issued matching Muck-a-lucks to wear when in camp...shoes to be left outside the tent.   Down the center of the table were camp lanterns with name tags for the girls.   Battery operated candles were great!  At sunset the girls hit the simple dinner buffet (inside) and indie soda bar (outside) to make their dinner - an epicurean delight: hot dogs, watermelon & chips with root beer.
After dinner the backyard sparkled as the white lights and lanterns were lit and the roaring fire glowed.  The steady sound of giggles with a background accompaniment of Molly's playlist filled the yard.   No games, activities or adult intervention...  The girls just chilled.
Glamp Rations
Birthday Cake
Late Night S'Mores Bar
It is so easy to pull theme together with custom printables.  I found a good tent image and made that my "brand" image for the party.  Using Canva.com, I found a font that I liked and quickly was able to make a slew of printed menus:  Dinner, Smores, Breakfast...  I also made custom labels for all of the mason jars of snack rations.   Everything was printed on brown kraft paper and really brought the whole theme together.
The party was a smashing success.   With minimal adult supervision/intervention, my daughter and her friends got to celebrate entering their teens with a loungy Glampout.  Stargazing, & truth or dare followed late night s'mores until it finally got cold enough that they wanted to snuggle in sleeping bags and chit chat themselves to sleep.
At midnight dad took a Starbucks order to then deliver at nine am.   Breakfast was simple - Starbucks, pancakes, bacon & fruit salad.  Easy & relaxed.
We plan to Glamp again.  The house was immaculate - they hardly whipped in to use the bathroom.  Tear down & clean up was a breeze.   I highly recommend a good Glampout.